In 2021, the World Organisation for Animal Health (WOAH, founded as OIE) continued its core mission to help Members respond to animal disease outbreaks through capacity building, vaccine rollouts and the implementation of disease control strategies.
Preventing the spread of African swine fever
As the world has experienced an unprecedented increase in cases of African swine fever (ASF) over the past decade, effective measures must be implemented more than ever. The control of ASF requires sustained commitment and resources, and the involvement of all relevant stakeholders. Public-private partnerships are instrumental in leveraging the respective strengths, knowledge, expertise, and resources of both, public and private sectors, allowing ASF control to be achieved more rapidly and efficiently. In 2021, under the umbrella of the GF-TADs and in collaboration with FAO and the International Meat Secretariat, WOAH organised a virtual event to promote the engagement of stakeholders and facilitate the establishment of private-public partnerships for ASF control.
To better assist Members, WOAH also published the ASF compartmentalisation guidelines. Targeting Veterinary Services and the private sector, the guidelines assist Members and stakeholders of the pig industry in setting up compartments to separate and isolate animals according to certain principles. Its aim: to limit contact between sick and healthy animals with different health status, thus curbing the spread of ASF.
Responding to outbreaks: the case of ASF in the Dominican Republic
Countries in the Americas region have been and remain on high alert as African swine fever was reported in the Dominican Republic in July 2021 after decades of freedom from the deadly disease. A few days later the disease was also reported in Haiti. The World Organisation for Animal Health and its partners have provided critical support to help Members halt the further spread of this disease. Dr Luis Barcos, regional representative for the Americas, explains our response to this animal health emergency.
Preventing disease outbreaks through vaccine delivery
Vaccines are among our best tools for preventing and even eliminating diseases, both in animals and humans. As the elimination of human deaths from dog-mediated rabies remains a priority for WOAH and its partners, our rabies vaccine bank allowed the rollout of around 190,000 vaccine doses in 2021 to four priority countries (Brunei, Eritrea, Gabon and Namibia) despite the restrictions linked to the COVID-19 pandemic. We have also continued to support Members in the development and implementation of sustainable and One Health-based national action plans for the elimination of dog-mediated rabies. Namibia and the Philippines were the first countries to achieve WOAH's endorsement of their official control programmes in 2021, marking an important milestone in the elimination of dog-mediated rabies. To receive such endorsement, countries need to comply with our International Standards. Their applications are carefully reviewed to verify the efficiency of the measures in place.
In addition, 8 million vaccine doses against peste des petits ruminants (PPR) were delivered to Mauritania in 2021 along with guidance on vaccine administration through the Regional Sahel Pastoralism Support Project (PRAPS), an initiative to strengthen the resilience of pastoralists in the Sahel region. By improving the health of small ruminant populations, we contribute to empowering women as they are especially involved in sheep and goats rearing.
In 2021, WOAH
delivered around

against rabies in four priority countries
In 2021,
WOAH delivered
vaccine doses against PPR in Mauritania
A new strategy for aquatic animal health
Human consumption of aquatic animal products is greater than ever before. Today, aquatic animals are the main source of protein for billions of people worldwide, and demand is expected to increase. In 2021, we have launched our first global Aquatic Animal Health Strategy built on lessons learned from decades of involvement in this sector.
Disease outbreaks are the greatest threat to aquatic animal production globally. This threat requires collaborative actions by WOAH and its Members, in coordination with relevant stakeholders.
The strategy is a call for action to improve aquatic animal health and welfare worldwide. Current efforts to keep up with the rapid growth of aquatic animal production and increased risk of disease emergence have revealed the need to strengthen four areas: standard-setting, capacity building, resilience, and leadership. The strategy aims to identify and coordinate actions that address the highest priority common needs, and to focus resources on activities that will yield long-term impacts. This in turn will contribute to sustainable economic growth, poverty alleviation and food security, thereby supporting the 2030 Sustainable Development Goals (SDGs).
Over
people are engaged
in fisheries and aquaculture worldwide
As aquatic animal consumption is expected to rise globally, WOAH's global Aquatic Animal Health Strategy launched in 2021 builds on decades of lessons learned to provide guidance to Members.
Expanding access to expertise on animal diseases
We are confident that the network will contribute significantly to global efforts to halt the spread of ASF and to eradicate it from domestic pigs.
Early and reliable diagnosis of infected animals remains crucial to effectively prevent and control the spread of diseases. In 2021, we have launched three WOAH Reference Laboratory networks for priority animal diseases: African swine fever (ASF), peste des petits ruminants (PPR), and rabies. Similar networks are also planned for aquatic animal disease laboratories.
Establishing laboratory networks expands access to expertise, as they involve national laboratories, research institutions and universities in addition to our Reference Laboratories to coordinate prevention and control efforts of animal diseases worldwide. Over 30 laboratories from across all the regions are already part of the existing networks.
The new platforms are open to all laboratories actively performing diagnostic tests for these diseases and will contribute to global animal disease control and eradication efforts. More fluid information exchange and easier access to services among members will allow for higher quality and coordinated laboratory performance across lab communities. Through their websites and workshops, the lab networks will provide up-to-date information on protocols, vaccines, training, proficiency tests, and make other expertise and data available to the community.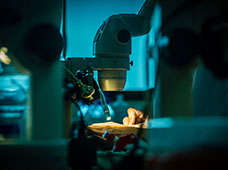 Helping research for better preparedness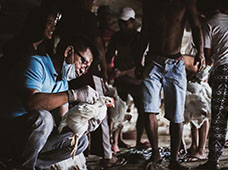 Encouraging global cooperation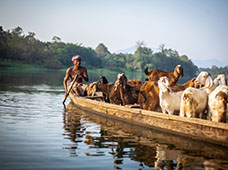 Working towards a healthier world