In 2021, the World Organisation for Animal Health (WOAH, founded as OIE) continued to foster global cooperation to help Members face One Health challenges such as antimicrobial resistance (AMR) and zoonotic diseases.
Leading the way for an improved multi-sectoral approach: the case of Cambodia
Antimicrobial resistance (AMR) is a perfect example of a public health challenge that must be tackled through cooperation and strong partnerships between countries, regions, and sectors of intervention. When dangerous bacteria become resistant to antibiotics, they can spread through human and animal populations, as well as into the environment, hampering our therapeutic interventions and causing death in their path.
To address the threat of AMR, Cambodia endorsed a multi-sectorial action plan in 2019. Yet the challenges of effective coordination jeopardised its implementation. To help the Government create mechanisms that support a One Health approach, WOAH, in collaboration with the Food and Agriculture Organization of the United Nations (FAO) and the World Health Organization (WHO), has provided the country with technical expertise and facilitated the access to financial resources.
Through the Antimicrobial Resistance Multi-Partner Trust Fund (MPTF), the three Organisations are now also working with the United Nations Environment Programme (UNEP) to improve antimicrobial stewardship and communications strategies which will drive the successful implementation of the intersectoral AMR action plan in Cambodia.
This initiative has already led to increased awareness of the risks linked to rising levels of AMR. In 2021, a multisectoral workshop was organised in Cambodia to develop the national AMR communication strategy. As a result, several awareness programmes were launched during the World Antibiotic Awareness Week (WAAW) 2021, disseminating key information at national and provincial level.
In 2021, more than
WOAH leaflets on AMR were distributed in Cambodia

In 2021
participated in awareness-raising events
Strengthening One Health collaboration at a global scale
To build a more robust and inclusive response to AMR and other health threats, while embracing a One Health approach, a stronger partnership with the environmental sector was needed at global level. The Tripartite's (FAO, WHO and WOAH) efforts to intensify this partnership led to the inclusion of the United Nations Environment Programme (UNEP) in 2022. The new Quadripartite Alliance was officialised through the signature of a memorandum of understanding.
This expanded partnership will accelerate coordinated strategies to improve human, animal and ecosystem health. Its first key steps included the development of the AMR Global Strategic Framework which advances a One Health response to AMR at the global, regional, and country level. This framework broadly supports the implementation of the Global Action Plan on AMR, as well as a strengthened global AMR governance.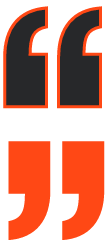 More than ever before, we know that addressing the interlinked and multi-faceted challenges posed by antimicrobial resistance requires that we work together – across sectors, government, academic disciplines, civil society, the private sector, and in the multilateral system – to advance a One Health approach.
Joint statement from Monique Eloit (WOAH), Inger Andersen (UNEP), Tedros Adhanom Ghebreyesus (WHO), Qu Dongyu (FAO)
A stronger One Health approach against animal diseases
One Health is much more than a mere concept, it also provides the best path towards tackling many zoonotic diseases. Rabies is one of these diseases. The United Against Rabies Forum led by WOAH, FAO and WHO provides an example of One Health in action. In order to end human deaths caused by dog-mediated rabies by 2030, the forum coordinates more than 30 institutions, through three main working groups:
to advance the effective use of vaccines, medicines, tools, and technologies to strengthen surveillance systems;
to increase strategic and operational support to countries;
to further advocacy and resource mobilisation.
The World Organisation for Animal Health and its three partner organisations hosted a series of webinars in 2021 to disseminate the working groups' recommendations to Members and other stakeholders.
Influenza is another zoonotic disease that requires a One Health approach. This year, we continued to coordinate the WOAH/FAO network of expertise on animal influenza (OFFLU). OFFLU also collaborates with WHO for pandemic preparedness by providing data on zoonotic animal influenza . This partnership led to the production of diagnostic protocols needed to inform surveillance and control policies, and build technical partnerships with national laboratories.
By strengthening animal and human health systems in their fight against zoonotic diseases, the Organisation and its partners are showing how the One Health approach is a tangible and sustainable way to make the world safer for everyone.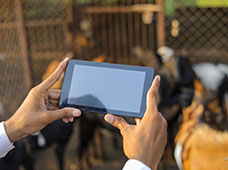 Leveraging technology to support Veterinary Services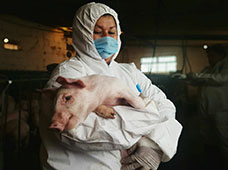 Giving animal health a voice