Diseases know no borders.
All living beings, regardless of their species, share a same world… and its health challenges.
By responding to animal health emergencies, fostering research, and reinforcing Veterinary Services worldwide…
… the World Organisation for Animal Health ensures a safer and more resilient future for all.
Because animal health is our health.
It's everyone's health.
Fostering resilience against global health challenges
Influenza, COVID-19, MERS, Ebola… Health crises worldwide constantly remind us that global health and well-being can only be achieved by considering animals, humans, and the environment as interconnected and interdependent. 75% of emerging human infectious diseases have an animal origin and many health threats can spread, if left uncontrolled, between animals, humans, and the environment.
In 2021, the World Organisation for Animal Health (WOAH, founded as OIE) reinforced its position as a leader to advocate for a global One Health approach. This approach considers that health challenges must be addressed by taking into account the interconnectedness of animals, humans, and the environment. Because improving animal health also improves human and environment health. And vice-versa.
This year, our actions, capacity building programmes, and growing set of digital tools have been key to better equip Veterinary Services to achieve better animal health. As we help countries worldwide prepare for health crises, respond to them, and build more resilient animal health systems, WOAH continues to create a healthier and safer world for all.
Our guiding principle: science
Animal, human, and environmental health are extremely complex and intertwined systems. How does ecosystem health affect animal health? What impact do animal diseases have on human well-being and flourishing? These questions can only be answered with robust scientific evidence. We rely on our network of experts to draft International Standards for animal health, to craft response strategies to health crises, or even to collaborate across sectors to find solutions to address global health threats.
Research leads to innovation which in turn leads to effective action. We are constantly adjusting our actions to follow proven methods for building a safer future for all.
In 2021, by fostering research, improving our data collection protocols, and developing more efficient data-sharing tools, we continued in our mission to empower our Members, providing knowledge and science-based strategies to help them with their specific animal health challenges.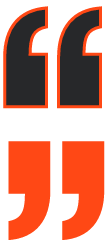 WOAH is the global authority on animal health: we work across borders to improve the health of animals and our future, recognising that animal health impacts everyone's health
Animal health at the crossroads of global challenges
Animals are a core component of human life on this planet: they ensure livelihoods, food security, and can influence global health. Our Organisation thus has a leading role to play in tackling many of the world's most pressing challenges. Climate change, antimicrobial resistance, and even the threats of agro-crime should be addressed in a collaborative way, involving the animal health sector. In 2021, we actively stepped forward to address these overarching challenges.
As the global authority on animal health, with a vast network of experts and partners worldwide, the World Organisation for Animal Health is uniquely positioned to foster collaborations across health, economic, and other sectors.
Through initiatives such as the collaborations with UNESCO and INTERPOL, WOAH embraced its key role in mitigating global risk by acknowledging that animal health pertains to more than just animals. Animal health is everyone's health.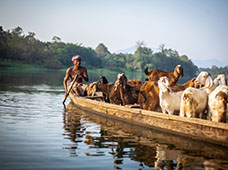 Working towards a healthier world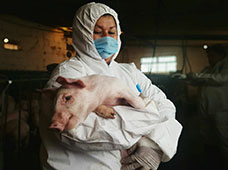 Giving animal health a voice